How to use the SMP (Service Management Portal)
How to use the SMP (Service Management Portal)
---
Share feedback
Thanks for sharing your feedback!
Log in to your service management portal with the credentials you've received after signing up as a NordLayer Partner.
You'll arrive on the Organizations page first. Here you can review info about each Organization: ID, number of members and servers, and status. The page will appear empty until you create an Organization.
Create a new Organization
Here's how to create a new Organization:
Go to the NordLayer Partner Control Panel → Organizations and click on the Create organization button.
Enter your preferred Organization's name.
Enter an Organization ID (e.g., your company's shortened name or a word that's easy to remember).
Choose your Organization type: Standard, Not for resale, or Trial.
Enter your Organization owner's email address (optional).
Click Create organization.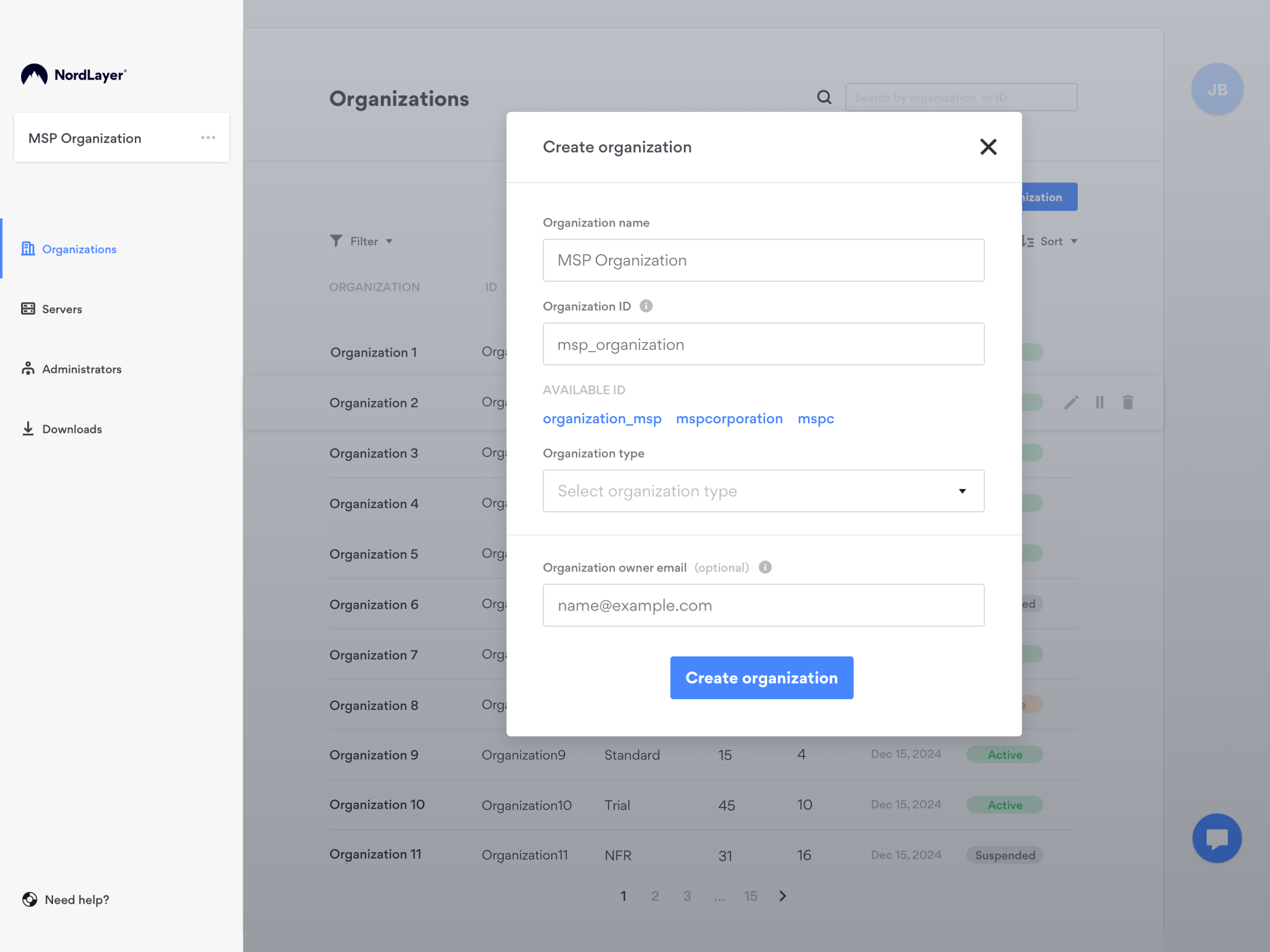 Types of Organizations
As mentioned above, you can choose from three types of Organizations:
Standard ⁠— this type of Organization is the default choice when onboarding and managing a new Organization. Standard Organizations are converted and ready to use MSP services.
Standard Organizations also have no restrictions or limitations: You can add members, servers licenses, manage administrators, and enable/disable all features for a customer.
Note:
Standard pricing is applied to all server and member licenses.
Trial ⁠— this type of Organization gives your clients an opportunity to use NordLayer for free for 14 days. Trial Organizations can add member/server licenses.
When creating a Trial Organization, your clients can choose to automatically convert it to a Standard Organization or suspend it after the trial ends.
Make sure to tick the Suspend organization after trial instead of converting to paid plan box if you don't want your Trial Organization to be automatically converted to Standard.
Not for resale ⁠— This type of Organization allows you to use NordLayer internally to secure only your company free of charge. You can also add member licenses as Standard Organizations. Training for internal and external resources on NordLayer is also available, as is the ability to do product demos for potential clients.
Note:
You can create only one Not for Resale Organization and get one server license per account. If you need more servers, contact our 24/7 customer support team.
Manage Administrators
On the left sidebar, you'll see Administrators. Here you'll be able to manage administrators you've invited to your Organization.
Here's how to invite new Administrators:
Click the Invite new administrators button.
Enter the new Administrator's email address
You can add multiple Administrators at once.
You can assign the new administrators to organizations from here if you wish.
Note: In case you have any questions or are experiencing any issues, please feel free to contact our 24/7 customer support team.
---
Was this article helpful?
---
What's Next