Share feedback
Thanks for sharing your feedback!
Server usage analytics
Insights is a page on Control Panel that is designed to enhance data analytics, spot anomalies, and ensure seamless server usage. Organization Admins can use the Insights page to monitor how Members use NordLayer, including the most used protocols, the number of active sessions, the overall usability trends of NordLayer, and other data.
The Insights page also helps Organization Admins to advise Members, troubleshoot, audit, and make other data-driven decisions.
Note: The Insights page currently provide only dedicated server analytics and connections to virtual private gateways.
Dashboards
The Insights page has two dashboards: Protocol usage and Active sessions.
The Protocol usage dashboard shows the connections per protocol (including Browser Extension) in a time range. This helps to identify problems with service quality and compatibility.
The Active sessions dashboard shows number of connections to different dedicated servers in a time range. This helps to spot unusual behavior like connections in after hours or to backup or side gateways, as well as unexpected incidents.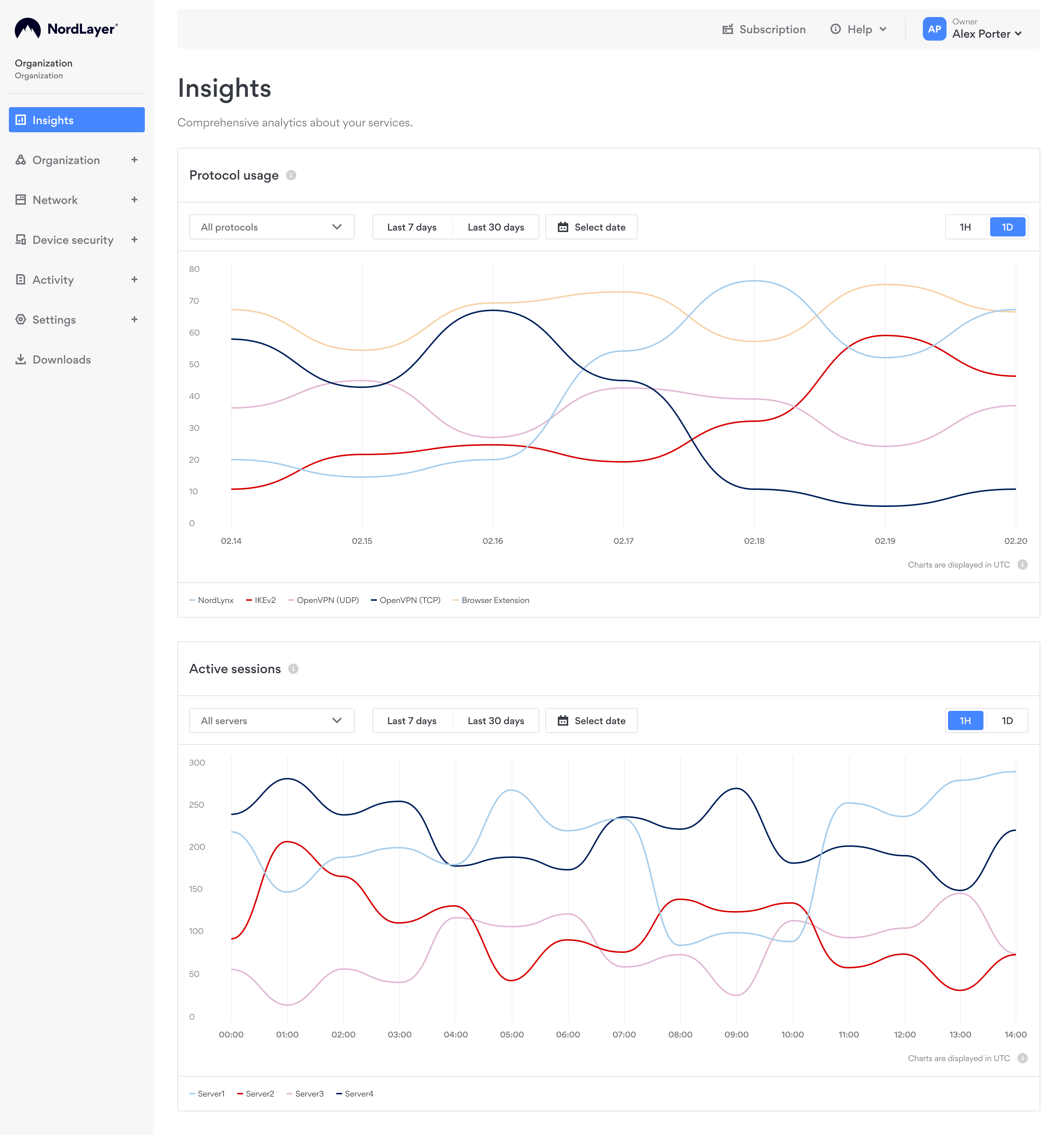 Dashboard capabilities
Here are some additional filtering options the dashboards on the Insights page have:
UTC time;
Option to select a custom time range or last 7 or 30 days, as well as hourly or daily data intervals;
Option to select a particular server or show all Organization's servers;
Option to select a particular protocol (including Browser Extension) or show all protocols.
Note: In case you have any questions or are experiencing any issues, please feel free to contact our 24/7 customer support team.
---
Was this article helpful?
---
What's Next