Setting up Browser Extension
Setting up Browser Extension
---
Share feedback
Thanks for sharing your feedback!
What is Browser Extension?
NordLayer Browser Extension is a lightweight solution used to secure online connections when accessing web-based resources configured on the company's virtual private gateways and secured on a browser level exclusively.
NordLayer Browser Extension can be used even without the NordLayer desktop app installed. That's especially handy if the NordLayer desktop app can't be installed or isn't supported on a specific OS.
The extension also allows having multiple browsers with multiple destinations (provided there are multiple virtual private gateways set up), securing only shared browser resources, or keeping them in a specific destination country.
Features that are not currently available on NordLayer Browser Extension:
Shared gateways. You can connect only to Virtual Private Gateways.
VPN protocol change. You can use only the TLS protocol.
Site-to-Site and Smart Remote Access. You can use these features only while using the NordLayer app.
Device Posture Monitoring. You can monitor only those devices with NordLayer app installed on them.
How to set up Browser Extension?
If you have a Virtual Private Gateway, please follow these steps to set up NordLayer Browser Extension as an Organization Admin:
Go to Control Panel → Network → Gateways;
Click on the three dots next to a virtual private gateway of your choice;
Select Request SWG Browser Extension as shown in the screenshot below:
---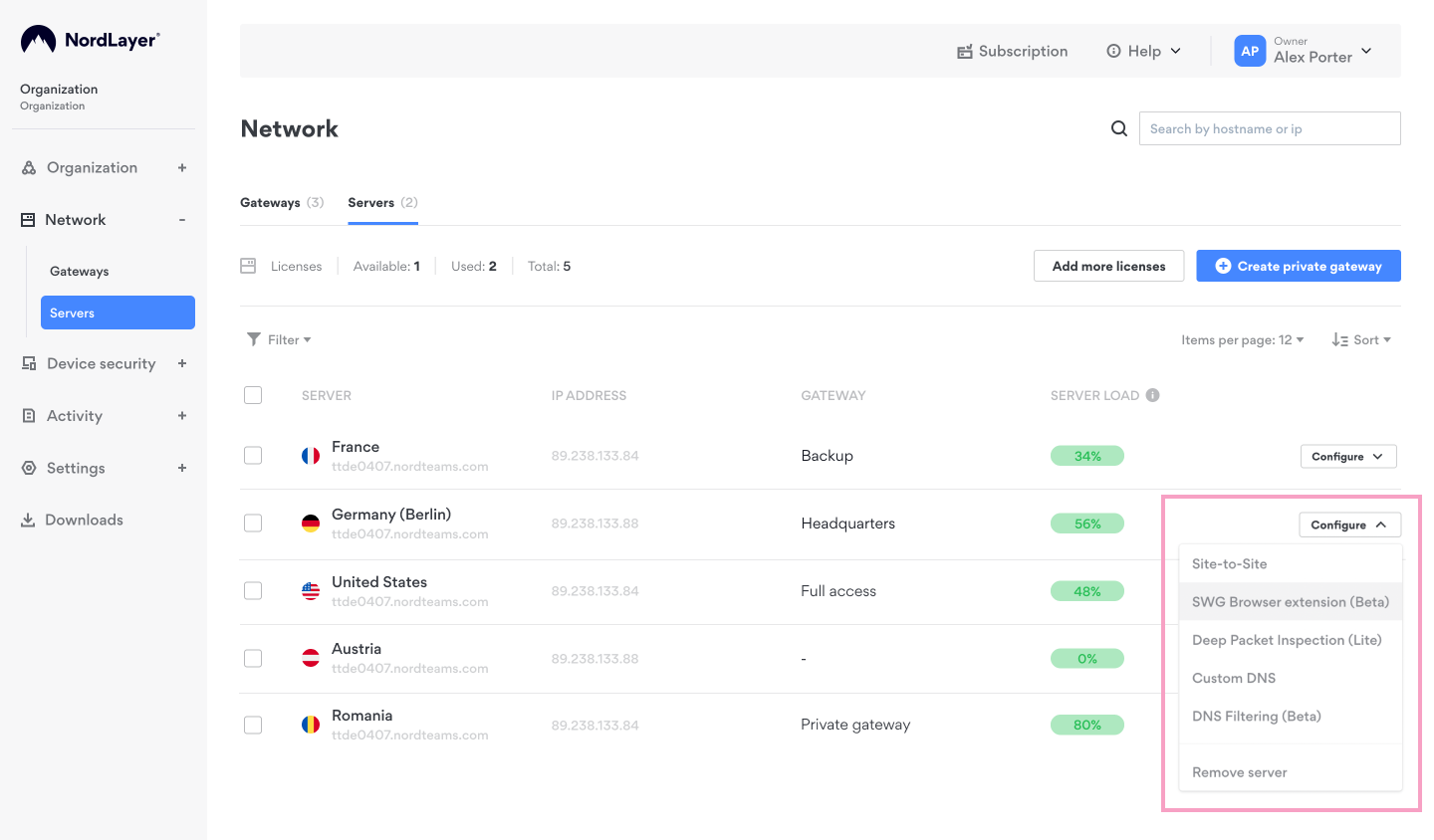 Once the requests is submitted, an email will be sent to you within 24 hours of submitting the request form, confirming that the NordLayer Browser Extension has been enabled.
How to install Extension for Your Web Browser?
NordLayer Browser Extension is available on:
Once you have added NordLayer extension to your browser, simply log in and connect to the virtual private gateway to start browsing securely.
---
Please note:
Only one browser extension at a time can control the proxy settings.
Make sure that other similar extensions are disabled when connecting to Virtual Private Gateways of Nordlayer.
When installing Browser Extension, you'll need to allow the extension to run in Private Windows.
While it's possible to use both a browser extension and a VPN app simultaneously, it's important to keep in mind that the browser extension may take priority over the VPN connection on the browser level.
Browser extension should not require administrator rights to install. It's meant to work within the browser's sandboxed environment and should not have access to system-level functions that would require administrative privileges.
Note: In case you have any questions or are experiencing any issues, please feel free to contact our 24/7 customer support team.
---
Was this article helpful?
---
What's Next