Setting up site-to-site on DrayTek Vigor 3900
Setting up site-to-site on DrayTek Vigor 3900
---
Share feedback
Thanks for sharing your feedback!
Note: If your device/service supports SHA256 and DH group 14, it is recommended to use these settings instead.
Configuring the tunnel on the DrayTek Management Interface
Open the DrayTek management interface

In the left panel, select VPN and Remote Access, then select VPN Profiles. Select the add to create a new profile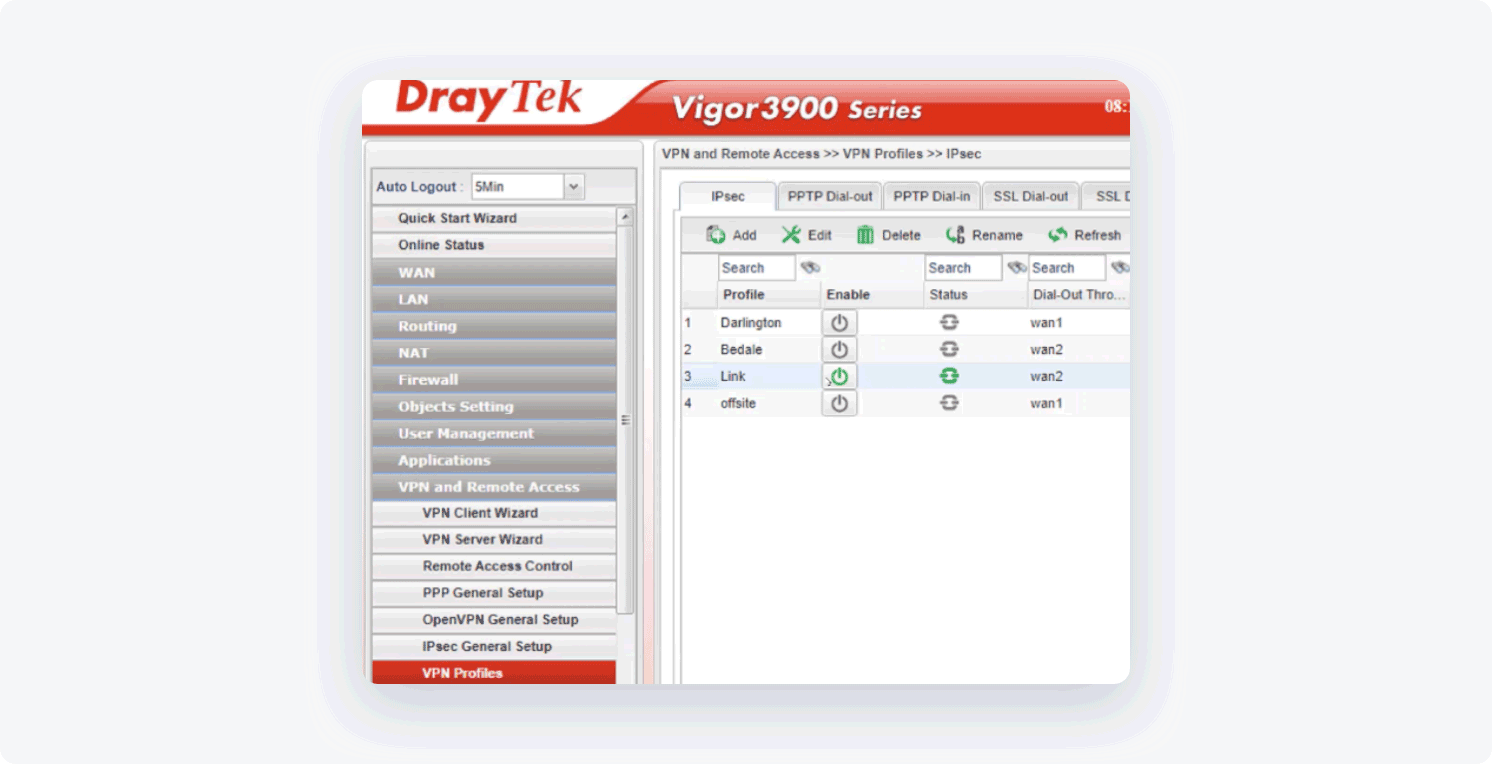 Under the Basic tab, fill in the following information: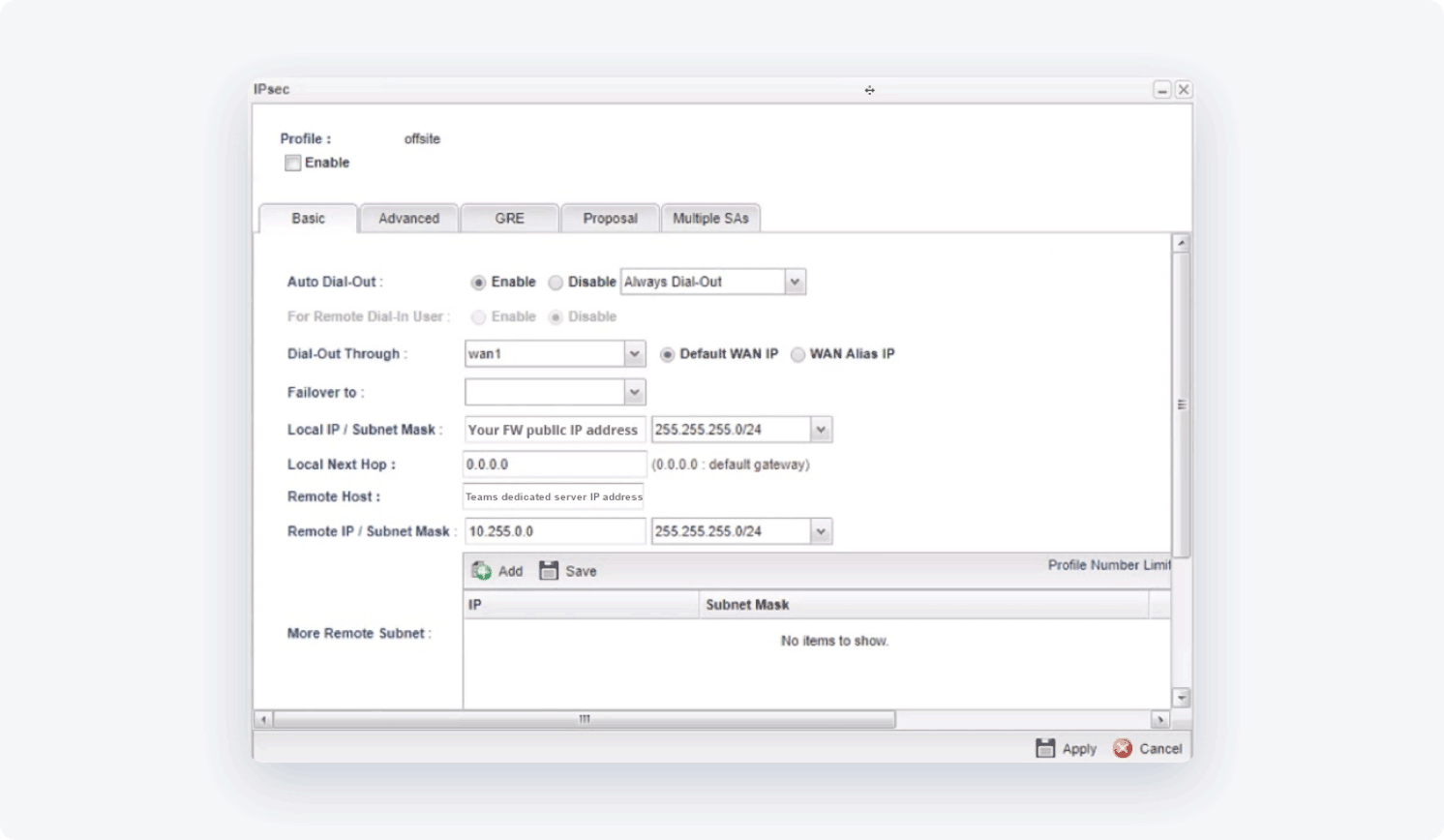 Auto Dial-Out: Enable; Always Dial-Out
Dial-Out through: Your WAN interface; Default WAN IP
Failover: Should remain with the null value.
Local IP/Subnet Mask: Insert your FW external address and specify the correlating subnets.
Remote Host: The IP of your NordLayer dedicated server
Remote ID/Subnet Mask: The default values are 10.6.0.0 and 255.255.240.0/20

IKE Protocol: IKEv1
IKE Phase 1: Main Mode
Auth Type: PSK
Pre-shared Key: Generate a pre-shared key (we will need this on our end as well)
Security Protocol: ESP
Fill in the following information in the Advanced section:
Please be aware that the Phase 1 and Phase 2 values may not be accurately reflected in the screenshots supplied below. For maximum security and stability of the VPN connection, it is advised to configure the Phase 1 SA lifetime to 3600 seconds and the Phase 2 SA lifetime to 28800 seconds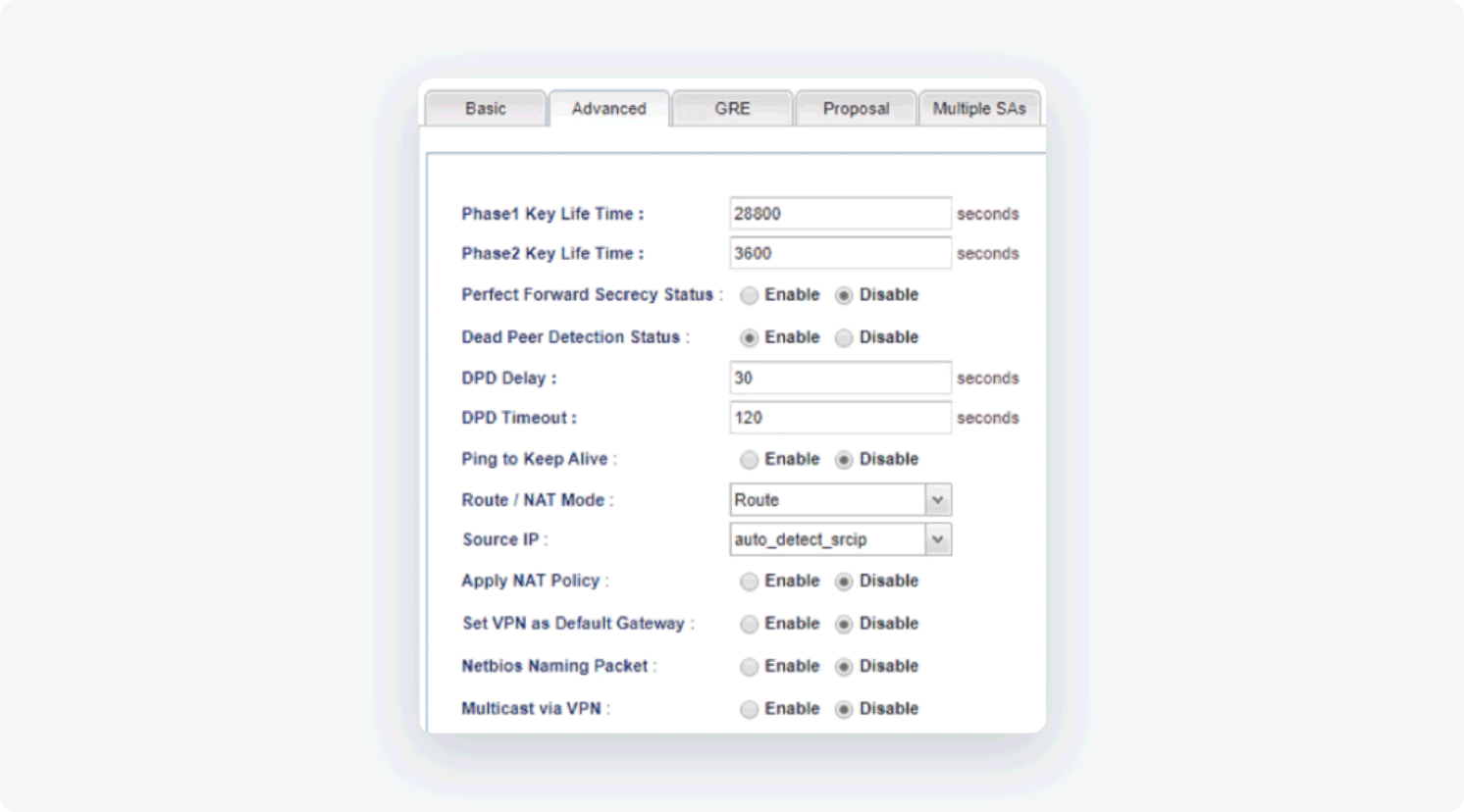 Phase 1 Key Lifetime: 3600 seconds
Phase 2 Key Lifetime: 28800 seconds
Perfect Forward Secrecy Status: Enable
DPD Status: Enable
DPD Delay: 30 seconds
DPD Timeout: 120 seconds
Ping to Keep Alive: Disable
Route/NAT Mode: Route
Source IP: Auto-detect
Apply NAT Policy: Disable
Set VPN Default Gateway: Disable
Netbios Naming Packet: Disable
Multicast via VPN: Disable
Rip via VPN: Disable
Packet Triggered: Enable
Force UDP Encapsulation: Disable
Fill in the following information in the GRE section:

Enable GRE Function: Disable
Auto Generate GRE Key: Enable
Fill in with the following information in the Proposal section:

IKE Phase 1 Proposal: AES 256
IKE Phase 1 Authentication: SHA1
IKE Phase 2 Proposal: AWS 256 with auth
IKE Phase 2 Authentication: SHA1
Accepted Proposal: Acceptabove
Leave the checkbox unmarked in the Multiple SAs section. Make sure to enable the profile and click Apply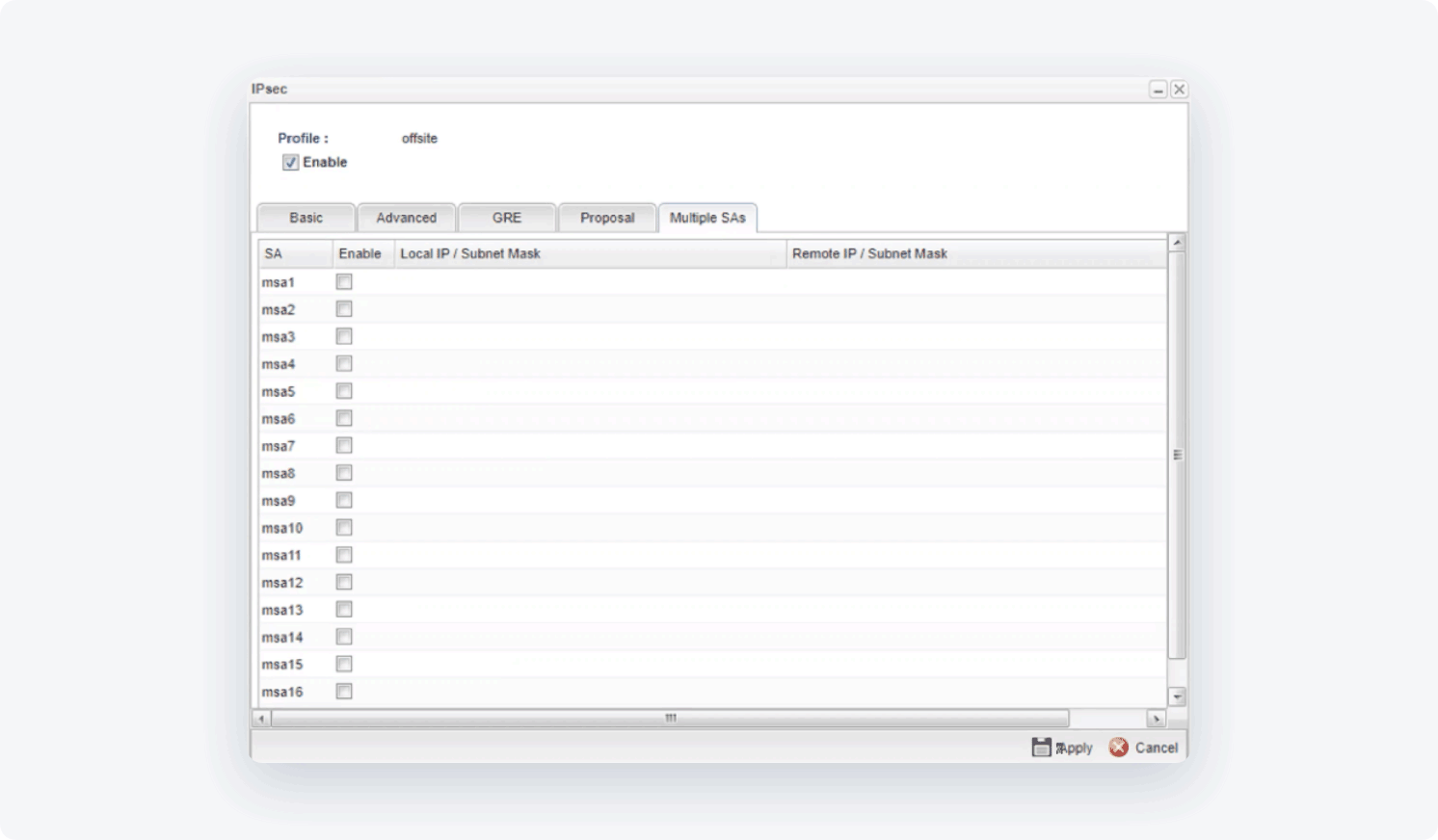 If the tunnel is up, the profile will be green in the Connection Management tab: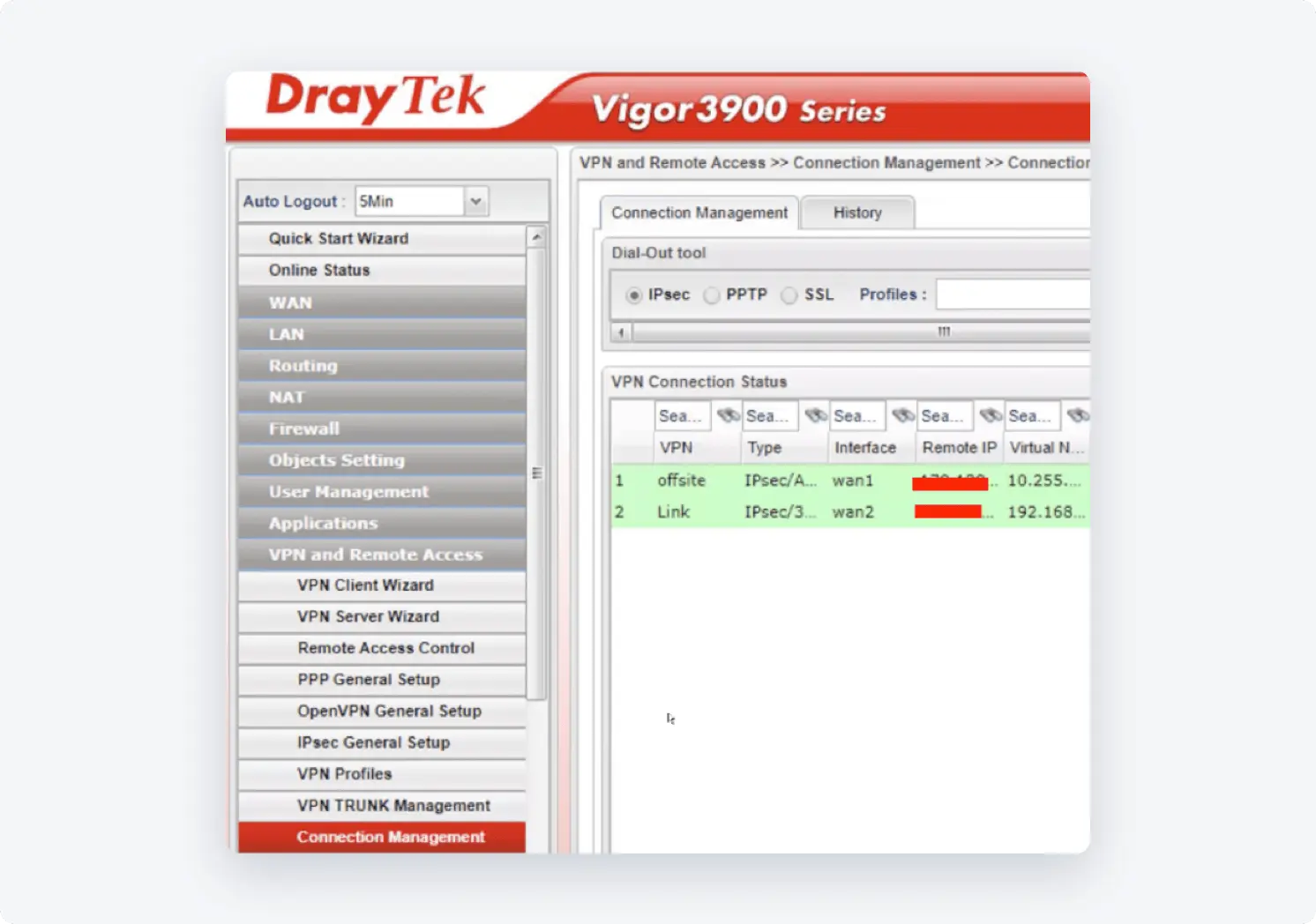 Ending note:
In order to finalize the site-to-site setup on our end, please provide these values via Site-to-site request from in the NordLayer Control Panel:
Pre-shared key - you can generate it or we can provide it
Encryption details (AES, SHA and DH group) - AES256, SHA256 and DH group 14 are recommended (also must support IKEv2)
Remote gateway/router public IP (must be reachable while connected to the dedicated server)
Remote subnet and mask (the subnet is used in your local network)
Note: In case you are experiencing different results, make sure that you have you carefully gone through all the steps. Having said that, in case the issue persists please feel free to contact our 24/7 customer support team.
---
Was this article helpful?
---
What's Next