What are the Owner, Team Administrator, and Member roles?
What are the Owner, Team Administrator, and Member roles?
---
Share feedback
Thanks for sharing your feedback!
Organization employees are divided into three roles in the Control Panel: Owner, Team Administrator, and Member.
Here's what each role means:
Owners are responsible for managing the organization's security. They can see the All Members list, create rules, assign roles, centrally implement security features. Owners can also configure gateways, servers, remote access solutions and manage billing all through NordLayer's Control Panel.

Team Administrators are responsible for adding and removing Members from a team that they're assigned to. They can also see all virtual private gateways that are available for the team they administer.

Members are those that belong to a specific organization and different teams. Owners and Team Administrators can invite and delete them from the organization and teams they're added to, as well as add or limit functionality.
Note:
Team Administrators are vital when it comes to managing large organizations because Owners can give them team administering rights without compromising on security.
Team Administrators cannot invite new members to the NordLayer organization itself. They can choose Members only from the All Members list managed by Owners.
An organization can have multiple owners and team administrators.
How can Owners assign roles?
Owners can assign roles to organization employees. Here's how to do it:
Go to Control Panel → Organization → Members.
Select a Member and left-click on it to open the profile tab.
Click on Edit → Change role.
Select which teams this user will manage.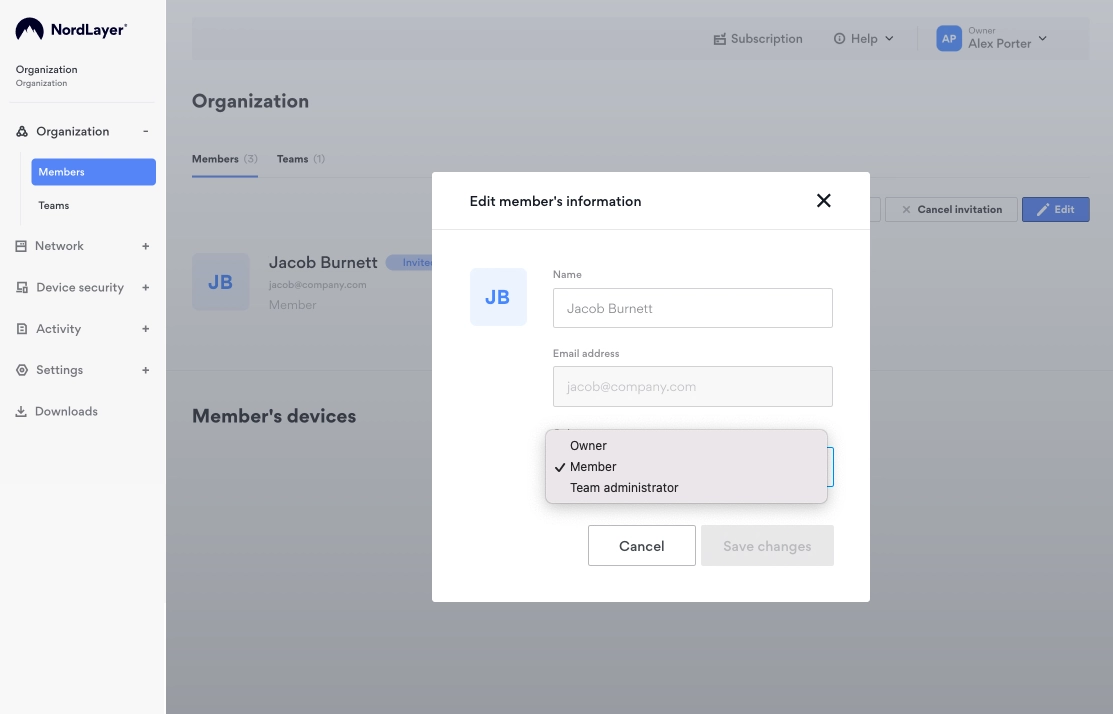 Note: In case you have any questions or are experiencing any issues, please feel free to contact our 24/7 customer support team.
---
Was this article helpful?
---
What's Next